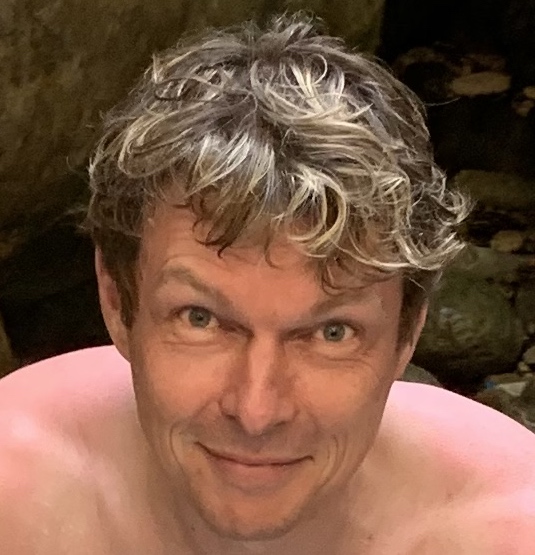 Hervé Ashutosh
Certified SkyDancing® Tantra Teacher
Coming from Paris where he facilitated some tantric evenings, Herve is now continuing his tantric life path in the Lot et Garonne by sharing his experience from the space of the heart.
He had followed the teacher's training program from Skydancing Tantra International. He had already lead tantric pratcises in english during a festival in spain.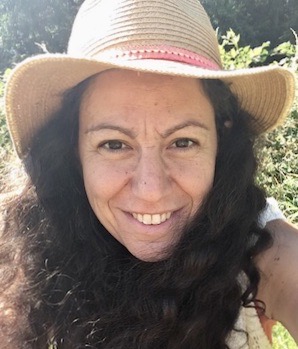 Selma Larana
Tantra facilitator
Selma has been supporting personal and spiritual development for years using bodyworks and feeling. Two dimensions are particularly close to his heart:
* Find, enlarge, and deploy within oneself the space of the presence and acceptance.
* Incarnation as a path of love
 My name is Hervé Ashutosh.
Each part of this name is a facet of my life and who I am.
Hervé is connected with this first part of my life: Discovering the world through numerous trips to the heart of a natural environments preserved in their original purity. It was a time to be and to live simply in harmony with my surroundings.
It is also the period of learning the profession of veterinarian. I made the choice of this profession to take care with my hands and my heart of sensitive living beings who do not necessarily have the possibility of to be heard and to be supported in the contemporary world. This period of my life has allowed me to cultivate presence, caring for others, discipline that provides security for the lives entrusted to me.
 Subsequently the study of the osteopathic approach to veterinary medicine unveiled energetic and informational medicine.
The openness to these multiple realities led me to turn my gaze more deeply inward to be more and more in touch with my essence. It was at this point that Tantra naturally imposed itself in my life path: a tool for expanding consciousness that includes all aspects of life in accepting and welcoming what is present.
Ashutosh is a part of Neo-Sannyas name which was given to me by a Sannyas who had been with Osho in his ashram in Poona. To be a sannyas simply means to be a seeker of Truth. To be as close as possible to the truth, to the true essence of who I am, what we are and what our universe is. It is the path of life that I have chosen.
Today I also offer in addition to group work to support people for a personalized program including private tantric learning session, tantric massage, Sound massage with Tibetan bowls. I also propose Healy system vibration therapy and Spiritual Response tharapy sessions.These different proposals are detailed on the site www.mytantra.fr
A glimpse of my tantric proposal (french version)

Why accompany tantric experiences ? (french version)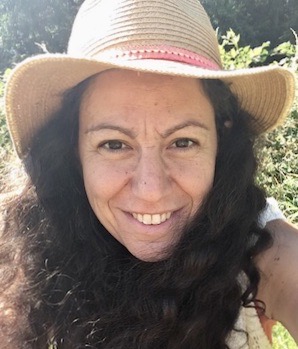 Celine Laroche, Selma Larana
Former researcher and translator in quantum physics, then trainer and consultant specializing in birth, breastfeeding, early psychomotor development and the bond of attachment; Today it is as Sophrologist and Transpersonal Therapist that Céline accompanies everyone on their way.
Enriched by her personal journey within Skydancing Tantra, Céline Selma Larana received transmissions in many areas: bioenergy and bioenergetic lithotherapy, psycho-bodily and massage practices, kabbalah and body of light, Sophrology and therapy of the link and the present (a method combining gestalt, constellations and transactional analysis), Chakradance.
Céline has accompanied women in all their dimensions for more than 15 years, and woven in their shadows and their lights the archetypes of the feminine, from the young girl to the medicine woman, including mother and partner.
Today, she puts at the service of the union of the feminine and the masculine in each one, man or woman, his personal path and his professional practices, and offers individual interviews and follow-ups, workshops and internship of Chakradance, Tantra and Tantra women. , as well as initiatory camel rides in the desert of Tunisia, accompanied by the Bedouin of the desert who named her Selma: Peace.
Ready to take the first step
towards joy and ecstasy?
Find our tantric workshops proposals on our Agenda page
If you wish to be notified for future evenings, days to come, send us your details to the email address appearing under the contact tab.